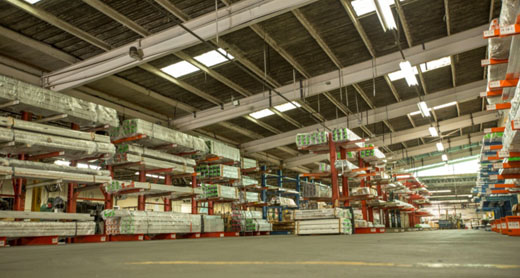 The Need for Growth
COLUMBIA, S.C. – In today's aluminum extrusion market, competition both domestically and abroad is more intense than ever. Manufacturers are constantly driven to lower prices and, at the same time, maintain a high standard of quality and on-time delivery.
Loxcreen MetalSource faced the same challenges and needed to take steps to acquire more business. In order to develop a plan for growth, Rick Wheeler, Vice President of Loxcreen, turned to the company's long-time partners, SC Works and The South Carolina Manufacturing Extension Partnership (SCMEP).
Loxcreen's Columbia-based MetalSource Division boasts a storied history of supplying some of the world's largest original equipment manufacturers, but it needed to reposition itself to remain competitive. In particular, its goal was to increase sales of its value-added services including precision routing, drilling, milling and tapping.
The Solution
The marketing process began in the fall of 2012 with strategy sessions, first with its sales force, then with the management team. SCMEP used its Innovation Engineering Jump Start tools to lead the initiative, which uncovered several competitive advantages. Loxcreen is one of the few companies in its industry that controls 100 percent of the manufacturing process. Loxcreen's in-house tooling division has developed more than 30,000 dies for custom applications and has full in-house tool and die capabilities for fabrication. It even has its own fleet of trucks, which helps Loxcreen keep its on-time delivery promise to its customers. The net result is that Loxcreen boasts an on-time delivery rate over 95 percent, as well as some of the industry's highest customer satisfaction scores.
After the marketing strategy sessions, the next step was to validate these differentiators with Loxcreen's customers. SCMEP visited several of its major customers in the Southeast and filmed video testimonials. The personal interviews with customers offer a unique level of credibility and showcase just how well Loxcreen performs. For example, Georgia-based Acuity Brands, one of the world's leading providers of LED lighting, lighting controls and related products and services, identified Loxcreen's ability to work in its Kanban system as a major benefit.
In addition to filming customer testimonials, SCMEP's production team captured the MetalSource Division's manufacturing capabilities and created a promotional video that is showcased on a new website with mobile viewing capabilities. Loxcreen is sharing the video with its entire corporate sales force and customer base, with the intent of generating more add-on business.
The Results
New sales tools have also been used as part of a new business campaign to kick off the 2013 sales year. The process began by developing a list of 12,000 prospects that were then targeted with an e-mail campaign. An analysis of the e-mail outreach showed 586 recipients opened the e-mail, 92 readers visited the website, and 156 replied with feedback, questions or requests. As a result, several pricing quotes have been prepared and are expected to result in new customers.
Early in 2013, Oklahoma City-based M-D Building Products, Inc. acquired Loxcreen MetalSource, and the new company is even better positioned for growth. Wheeler states, "We anticipate the work with SCMEP will pay dividends in 2013 as we continue to pursue new opportunities and leverage our unique fabrication capabilities. We are well- positioned for a great year."
Results at a Glance