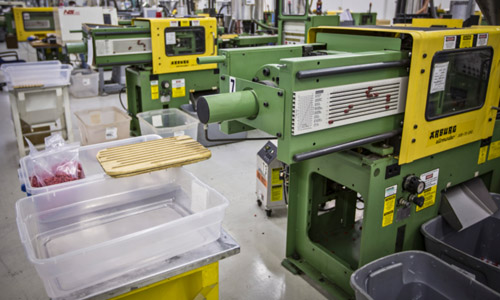 The Need for Business Growth
Several years ago, Spartanburg, South Carolina based Marchel Industries experienced a significant downturn, resulting in downsizing of staff and a need for additional sources of business. The company remained in this state until Operations Director Gene Pitts decided it was time for a turnaround. Pitts solicited the help of the South Carolina Manufacturing Extension Partnership (SCMEP), SC Works, and the South Carolina Department of Employment and Workforce (SCDEW) to help expand his company's sales opportunities and prepare to increase his workforce.
Company Background
Marchel Industries was established in 1991 and specialized in high cavitation, fast-cycle injection molding. Over the years Marchel's capabilities evolved to include mold and product design, reverse engineering, full-service plastic injection molding, precision machining, project management, material selection services, and prototype design. The company is ISO 9001:2008 certified and handles all services in house to maintain the quality that Marchel is known for.
The staff at Marchel Industries is committed to providing the highest quality, exceptional customer service, and to delivering products on time every time. This vision has stood the test of time and remains a central to Marchel's success.
Management's Vision
Although Marchel Industries was providing products and services to companies throughout the Southeast, management sought to expand the company's sales by entering new markets. In addition, Marchel wanted to increase its capacity and workforce. With little time to contribute to the strategy, Marchel needed to find the most efficient programs available in the state to help achieve management's goals for the company. Marchel's staff took advantage of the Growth Acceleration program offered by SCMEP, SC Works, and SCDEW. "As far as helping us grow and acquire a new customer base, once we started working with SCMEP, we realized that the Rapid Response program would be the way to go," stated Gene Pitts.
The Pathway to Growth
SCMEP's consultants began Marchel's Growth Acceleration plan by involving the team in a marketing messaging strategy to determine the direction the company should proceed. New market opportunities were identified during this process with the marketing messages tailored to reach all desired industries and segments. A lead generation campaign was created that resulted in nearly 3,000 verified leads for a nurtured email marketing campaign as well as many direct leads resulting in immediate new sales of $18,000.
The next step of the project involved creating effective communication tools. SCMEP's marketing team analyzed Marchel's existing website and trained the team on effective Search Engine Optimization (SEO) strategies including writing keyword rich web page titles and descriptions as well as website copy changes to increase search traffic. A professional photo and video shoot was also incorporated to update the website and marketing materials with production to enhance the company's marketing messages and capabilities.
Marchel used the photography to create a trifold brochure outlining the company's capabilities and quality. SCMEP also trained Marchel on creating an email campaign using the updated marketing messages, the new photography, and a refreshed target market. The new leads gained during the lead generation campaign were loaded into the email campaign software to be nurtured.

Results
Marchel Industries implemented the training and tools provided by the SCMEP Growth Acceleration program immediately. The company was able to retain all 18 employees, hire 2 additional employees and plans to continue to grow the business and add to the work force in the near future. In addition to the new sales of $18,000, Marchel retained $150,000 in sales and gained a cost savings of $7,500. Website traffic and leads have increased noticeably as well, and Marchel continues to nurture the new leads uncovered through the Growth Acceleration program. "The programs that SCMEP presented to us were very innovative, and we felt that they would help us reach the goals we set for Marchel Industries," said Pitts.