Power BI Bootcamp: Supercharge & Optimize Data Driven Decision Making
10/9 Power BI Basics;
10/9 – 10/10 Power BI Basics + Intermediate;
10/9 – 10/11 Power BI FULL Bootcamp
Click REGISTER NOW to view pricing levels for each.
Are you drowning in data, while starving for reliable and actionable insights? Are you spending endless hours double-checking, and refining ever-expanding Excel sheets and manual reports? Are the numbers not quite as consistent or reliable as you would like? Could the right information help you focus on what matters, make better decisions more quickly, and improve operational performance and results?
The Power BI bootcamp will jump-start your analytics and digital transformation journey by providing tools to develop your own in-house capabilities to convert data into insights! To offer increased flexibility, participants can register to attend day 1 only (basics), the first two days (basics + intermediate), or the full 3-day bootcamp.
DAY 1: Power BI Basics
DAY 1 – AM: Introduction + Data Loading + Interactive Visualizations
• Power BI – What/Why? Benefits over Excel? (incl. real-world examples)
• Installing Power BI
• Overview of the Power BI User Interface (incl. Report View, Data View, Model View, and Power Query Editor)
• Data Sources & Types
• Connecting to different Data Sources
• Visualization Types
• Creating and Editing Visuals
• Visual Interactions (incl. cross-filtering and cross-highlighting)
• Drill-Down/Roll-Up across Hierarchies
• Slicers & Filters
• Analytics (incl. built-in forecasting ability)
DAY 1 – PM: Hands-on practice! ("follow-along", instructor-led)
• Applying all concepts covered during the morning session by building a dashboard from scratch! (instructor leads and participants follow along)
DAY 2: Power BI Intermediate
DAY 2 – AM: Data Transformation + Data Modeling
• Loading, Transforming, and Cleaning data ("Data Shaping")
• Combining Data (appending & merging)
• Fact Tables vs. Dimension Tables
• Date Tables
• Data Modeling (relationships)
Everything covered through hands-on exercises!
DAY 2 – PM: Data Enrichment
• Introduction to "Data Analysis Expressions" (DAX)
• Calculated Columns
• Calculated Fields ("Measures")
• Iterator Functions, e.g. SUMX()
• Filter Context and the CALCULATE() function
Everything covered through hands-on exercises!
DAY 3: Power BI Advanced
DAY 3 – AM: Putting it All Together (hands-on practice to solidify newly gained data analytics skills)
• Building a complete dashboard from scratch! (participants work to create or replicate a dashboard themselves, with support from instructors)
• Additional useful concepts and techniques being introduced:
o Time Intelligence
o Quick Measures
o What-If Parameters
o Bookmarks and Buttons
• Dashboarding Best Practices
DAY 3 – PM: Publication, Automation, and Integration
• How to publish reports and dashboards?
• How to update reports and dashboards automatically?
• How to build integrations with MS SharePoint, Teams, Power Apps, and Power Automate?
• Where to find good further Power BI resources? (incl. reference materials and practice data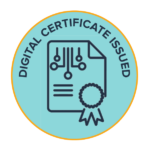 October 9, 2023 @ 8:30 am -
October 11 @ 4:30 pm
Register Now