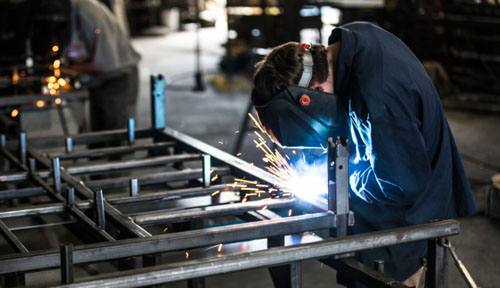 Staying True to its Roots
Known locally as the go-to machine shop for odd jobs and repairs, Laurens, South Carolina based Pitts Steel offers hand crafted metal fabrication, contract manufacturing, and ironwork. Pitts was the first metal fabrication shop in the area and has strong ties to the local community through apprenticeship programs, the Laurens County Chamber of Commerce, and several local charities. It was a natural progression to turn to the South Carolina Manufacturing Extension Partnership (SCMEP), SC Works, and the SC Department of Employment and Workforce when General Manager James Holliday was ready to expand the company's market beyond the Laurens area and thereby increase sales and workforce. The Rapid Response Innovation track was the ideal solution to help Pitts Steel with this growth transition.
Local Since Inception
Pitts Steel opened its doors in 1946 as a family-owned and operated metal fabricator with quality at its core. The majority of work performed in the shop is still done by hand, as Pitts has always been recognized for its craftsmanship. Extremely flexible and dedicated to customer service, it comes as no surprise that the company maintains a 100% customer satisfaction rating and guarantees on-time delivery. Capabilities include but are not limited to: welding (MIG, TIG, Stick on-site), rolling, cutting, bending, press brake applications, shearing, sawing, and custom ironwork.
Expanding the Comfort Zone
The management at Pitts Steel was ready for a big change. GM James Holliday wanted to expand the company's footprint to include new markets and industries. He also wanted to brand the company as a trusted metal fabricator with a local, family owned foundation centered on quality and the customer. SCMEP took on the challenge and began the Innovation track of the state's Rapid Response program. Branding the company was the first step in setting the tone for the entire project. Care was taken to maintain the local, family owned feel while portraying the company's capabilities for new target markets. A new logo and tagline were designed to incorporate these elements and serve as the inspiration for project going forward.
Growing the Business
The SCMEP team led Pitts through a marketing messaging session to identify the company's strengths and opportunities and to ensure that the mission and message were aligned. An innovative process was used to identify marketing messages that were specific and meaningfully unique to Pitts Steel. A competitive analysis was performed and market research was conducted to polish the marketing messages for Pitts Steel's new target market.
Communication tools and lead generation were key to a successful market expansion.  Pitts Steel was led through a training process to design and develop a new, search-friendly website to help generate leads and enhance their online presence. A professional photo and video shoot captured the lifeblood of the company: its family owned and operated business focused on craftsmanship and providing the highest quality to all customers. The photos and video were incorporated into the website to convey this dramatic difference form Pitts Steel's competitors. GM James Holliday stated, "We were very pleased with the website –it was a great, fresh start to our refreshed brand and online presence. It captured our company's mission and capabilities very well."
A lead generation campaign followed the new website launch. The online campaign identified prospects in new target markets and resulted in nearly 2,000 leads. Holliday was trained on a lead nurturing program and CRM system to manage all sales leads going forward. In addition a Pay Per Click (PPC) campaign was generated using industry keywords identified by the Pitts staff and incorporating marketing messages uncovered during the original messaging session. The PPC campaign resulted in 435 website visits and over 175,000 online impressions.
To conclude the Rapid Response project training, SCMEP conducted sales training as well as provided steps to measure results and continue to improve marketing efforts going forward. "We feel we have the tools in place to reach our sales goals in the near future thanks to SCMEP's Rapid Response program. The prospects and leads gained during the project and afterwards have provided us with a promise of great potential for our company."

Results
As a result of the Innovation track of the Rapid Response program offered by SCMEP, SC Works, and SCDEW, Pitts Steel was able to retain all 15 employees and has plans to hire additional full time employees in the near future. During the project, the company gained 2 new sales for immediate revenue of $8,000 and quoted 11 new jobs. Leads generated from the email campaign totaled nearly 2,000.