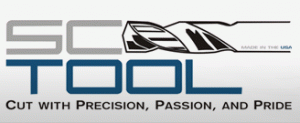 Company Overview
Located in Spartanburg, South Carolina, SCTool has been committed to providing its customers with precise and accurate cutting tools on a consistent basis for over 23 years. All quality related issues are passed through their Quality Assurance Department who work independently of all other processes and has final approval in tool quality. Through the company's experienced engineers, operators and sales representatives, as well as routine document maintenance and frequent customer expectation reviews, they continue to provide the superior quality customers have come to expect. SCTool's drills, end-mills, reamers and special carbide tooling products are currently producing the needed results in a multitude of applications across a broad range of industries including automotive, aerospace, power generation, heavy equipment, medical, and custom metal working.
Situation
A few years ago, due to the automotive industry decline, SCTool's business was starting to fall in a big way. Looking for ways to compensate, the company reached out the aerospace industry. There was a company located in Charleston, South Carolina, that asked SCTool for a two-week turnaround on 600, 900, 2,000, and 3,000 piece orders. It seemed impossible for the company to acquire the necessary carbide in that time frame, then be able to turn those tools from a raw to finished product.
Solution
SCTool reached out to SCMEP for assistance. SCMEP was able to come in and complete Value Stream Mapping training. The map was able to capture the current state of material flow and information flow as well as identify the sources of waste. The current state considered equipment capacity, changeover times, customer demand patterns, scheduling policies, and inventory levels. A future state map, based on the current state and incorporating the necessary supporting improvements, was systematically designed. The goal was to significantly reduce lead-times and inventory, as well as developing more efficient work through minimized non-value added activities. Through this process, SCMEP was able to show SCTool how the order could be fulfilled.
Results
After SCTool discovered they could fulfill the order in the allotted time frame, they were able to notify the end user. The project pulled SCTool through a difficult time for the business and kept them from laying off any employees and even closing the plant.
"SCMEP is really a joy to work with. They are all great, down to earth people who are always willing to help in anyway needed. The team makes it easy for all levels to learn new, efficient processes. We are delighted to grow alongside them." Jody McRoberts, President, SCTool Corp