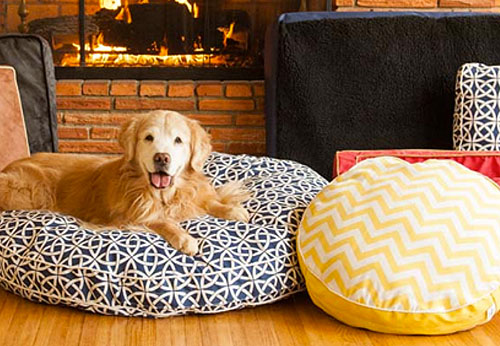 Greenville County – Family owned and operated since 1985, Snoozer Pet Products is a manufacturer of a variety of merchandise for dogs including: dog beds and sofas, dog car seats and carriers, orthopedic dog products, replacement covers for products, and accessories including reflective vests. The company employs 48 people and operates in a new 50,000 square foot facility in Piedmont, SC. Snoozer's intention from the beginning was to offer the finest pet products at affordable prices. The company maintains this philosophy today by hand sewing and assembling most products in the US.
Snoozer's Dilemma: Stay or Go?
Snoozer had experienced aggressive growth over a five to ten year period. With such growth, production became limited by the capacity of Snoozer's facility – the plant could no longer physically accommodate the growth that the company was experiencing. Management was uncertain of what the company should do – build a new facility, sell the company and retire, or were there other options to support the growth?
Snoozer eventually decided that it needed to make the move to a larger, better equipped, and more efficient facility. The company knew that it needed to implement Lean processes, but was unsure how to proceed. Manufacturing had long relied on equipment, processes, and a facility that lacked the Lean foundation needed in this new phase of the company's history.
Snoozer's obstacles were twofold: 1) The company needed to move into a better plant, and 2) Snoozer needed to undertake an aggressive training initiative in Lean. To plan and facilitate the move into a new plant and implement effective Lean strategies, Snoozer management turned to the South Carolina Manufacturing Extension Partnership (SCMEP) for guidance.
The Solution:  A Few New Tricks
SCMEP worked with Snoozer Pet Products to develop a new plant layout and improve internal operations — all focused around Lean implementation. First, SCMEP conducted a thorough Value Stream Mapping project, allowing Snoozer to better identify its core products and processes and opportunities to improve them.
The second phase of SCMEP's plan was to launch an aggressive training initiative in all things Lean. Beginning with the leadership team and core employees, Snoozer staff was introduced to Lean concepts through detailed workshops and interactive simulations. These demonstrative training sessions, including Lean Job Shops, gave employees some introductory tools that they could apply immediately. Future training exercises include Kanban simulations, Lean Six Sigma classes, and Lean 101 training for the entire facility.
Lastly, SCMEP armed Snoozer with critical resources needed to maximize the benefit and minimize the stress of moving into a new facility. Through improved processes, a new plant layout, and additional square footage, Snoozer's growing pains quickly became a thing of the past. The new plant offers 43,000 square feet of manufacturing space and nearly doubles the capacity of the old facility.
SCMEP's assistance also enabled the company to move into their new plant quickly and seamlessly. The transition took only three days to complete, allowing Snoozer Pet Products to be in operation just four days after closing the doors to its previous location.
Reward for a Job Well Done
Since moving into its new location and adopting Lean, Snoozer Pet Products has experienced unprecedented success. September 2014 marked the highest revenue-generating month for the company, even surpassing revenue earned during the busy holiday season. Snoozer has also experienced a four to five time improvement in gross margin.
In addition, Snoozer has been able to eliminate overtime and Saturday shifts, saving the company a tremendous amount of money. The company also created a management position to lead its Lean initiatives and training goals. Ultimately, Snoozer expects to add 39 new employees to its staff.  Gary O'Donnell, VP of Marketing for Snoozer Pet Products, stated: "To be able to see this kind of improvement and these kinds of metrics is huge. It is all because of SCMEP. SCMEP understood our core products and processes. SCMEP introduced us a Lean culture and helped us envision a layout we could grow into."
Results at a Glance