Close to 500 center staff, partners, and NIST MEP staff members gathered in Denver, Colorado, this week for the first MEP National Summit in five years. SCMEP had 9 staff members in attendance. The 2017 MEP National Summit is designed to connect the MEP Centers and their network experts with information, resources, and strategies to better serve manufacturers and deliver the NIST MEP mission of, "enhancing the productivity and technological performance of U.S. manufacturing."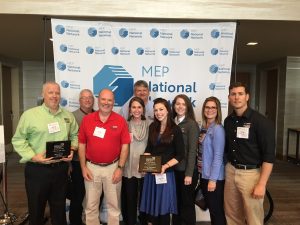 Over the course of three days, the Summit brought together leadership and staff from MEP Centers and NIST MEP, along with key partners, stakeholders, and industry thought leaders. Through more than 60 breakout sessions, insightful keynote speakers, plenary sessions, and panel discussions, the Summit provided a platform to build, expand, and grow our capabilities to take U.S. Manufacturers to the next level and prepare them for Manufacturing 4.0.
During the Foundation for Manufacturing Excellence Industry Awards on Tuesday, two of our very own received outstanding honors. Brian Kuney, Regional Vice President, received the Newcomer of the Year Award. This award recognizes significant contributions of an MEP Center individual that embraces the MEP system philosophy, enhances services provided to manufacturing clients, and/or improves operation with the MEP network.
Susan Whitehead, Technical Specialist, received the Practitioner of the Year Award. This award recognizes an individual whose specialized contributions made a significant, innovative, and sustainable impact in the MEP System. Congratulations to Brian and Susan on this huge accomplishment!