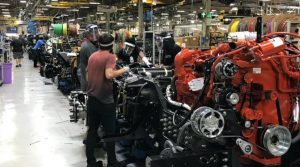 Jim Newsome, president and CEO of the S.C. Ports Authority, was presented the BlueCross BlueShield Manufacturing Lifetime Service Award during the Manufacturing Excellence Awards ceremony that anchors the final day of the 2020 S.C. Manufacturing Conference and Expo. The ceremony was hosted by Grady Johnson, president of SC Biz News, and Matt Brewer, president of Choate Construction, co-presenter of the ceremony.
Newsome has served as president and CEO of the S.C. Ports Authority since September 2009 and was in private shipping before that.
He studied logistics at the University of Tennessee before launching a career leading shipping lines. Over the past 11 years at the helm of the port system, Newsome has doubled port container volumes, led crucial infrastructure projects, and turned S.C. Ports into one of the most successful ports in the country. He has received numerous leadership awards, including being named to the 2020 International Maritime Hall of Fame.
Other awards handed out during the virtual ceremony included Innovator of the Year Awards for Daedalus Industrial of Easley and for Archroma of Martin. Minileit Inc. of Greenville was named the Emerging Manufacturer of the Year. The Outreach Award was presented to Sun Surveillance of Spartanburg.
Smart Move SC awards went to Elite Quartz Manufacturing LLC of Latta, Adornus Cabinetry of Lancaster and The Shyft Group of North Charleston for their decisions to move to the Palmetto State. Freightliner Custom Chassis of Gaffney, McCall Farms of Effingham and Urban Electric Co. of North Charleston were presented Smart Move SC awards for expanding their facilities.
Transformation and Operational Excellence Awards were handed out to First Quality tissue makers of Anderson, Charles River Laboratories International Inc. of Charleston and Proper Polymers of Anderson.
A group of special awards were created this year to recognize those companies that dealt with and overcame extraordinary circumstances to respond to the coronavirus pandemic and its fallout.
"We had a lot of companies that were almost going to have to lay off their whole staff but instead they pivoted, they made some decisions, they made some PPE and instead, not only did they keep their employees, they hired," said Chuck Spangler, president and CEO of the S.C. Manufacturing Extension Partnership. "So there are some incredible stories our there across South Carolina."
Five organizations were recognized for the SCMEP Beyond the Call of Duty Award. These are companies that "had a bias for action and made a major impact, not only in South Carolina but in the United States," Spangler said. They were, BorgWarner of Seneca, ZVerse of Columbia, Nephron Pharmaceuticals Corp. of West Columbia, Hemmingway Apparel Manufacturing Co. of Williamsburg County, and Vikor Scientific of Charleston.
Eleven companies were selected for the SCMEP COVID-19 Response Award. They were:
The conference and expo were conducted online this year, along with the 23rd annual Manufacturing Excellence Awards. The awards were co-sponsored by the S.C. Manufacturing Extension Partnership, which also co-sponsored the conference along with SC Biz News.
Click here to view the SC Manufacturing Conference and Expo 23rd Annual SC Manufacturing Excellence Awards Presentation.