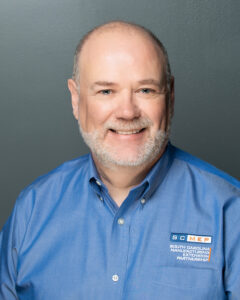 GREENVILLE, S.C. (March 16, 2022) — Andy Carr has been named President and CEO of the S.C. Manufacturing Extension Partnership. Carr has been a vital member of the organization's team for 24 years, including the past 6 years as Senior Vice President – Operations.
"I am very honored and excited to have this opportunity," Carr said. "I am passionate about U.S. manufacturing and particularly manufacturing here in South Carolina. I believe that strong, profitable manufacturing companies are the very bedrock of our state and national economies. There is nothing more satisfying than supporting the SCMEP team members as they work with manufacturing companies to help them reduce costs, increase sales, grow profits, and thrive."
Carr has nearly 40 years of experience in manufacturing. He earned a B.S. in mechanical engineering from Heriot-Watt University in Edinburgh, Scotland. He has earned certifications as a Lean Manufacturing Trainer and a Professional Business Advisor from the National Institute of Standards and Technology.
Carr succeeds Chuck Spangler as SCMEP's President and CEO. Spangler had served in that role for 6 years before his death in October 2021.
"Andy Carr has been a big part of building SCMEP into an invaluable resource for manufacturing companies in South Carolina," said Donald Bockoven, CEO of Fiber Industries and chair of the SCMEP Board of Directors. "He worked side-by-side with Chuck Spangler for 24 years as SCMEP helped elevate hundreds of individual manufacturers and the manufacturing industry as a whole in our state. I know he will continue to build upon that work in the years to come."
About S.C. Manufacturing Extension Partnership
The South Carolina Manufacturing Extension Partnership (SCMEP) is a private, non-profit group that serves as a proven resource to South Carolina manufacturing companies, providing them with a range of innovative strategies and solutions. An affiliate of the National Institute of Standards and Technology (NIST), SCMEP operates under the US Department of Commerce to promote innovation and industrial competitiveness.