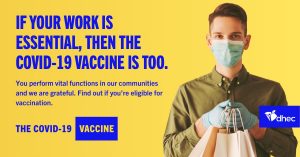 Frontline workers with increased occupational risk are now eligible for the COVID-19 vaccine. Around April 12, other essential workers as defined by the CDC will be eligible for vaccination as well.
If you employ either or both of these groups, connect them with trustworthy information about the vaccine using materials from SC DHEC's new toolkit for employers.
Share DHEC materials
Share information about the COVID-19 vaccine with your employees. Post a flyer, send a postcard or an email, or share a graphic on social media.
Posters 
Visit their toolkit to download vaccine-related posters for a general audience as well as posters targeted to frontline workers, healthcare workers, food service workers, and manufacturing workers.
Postcard 
Email to employees
Social graphics for use by employers and workers 
 Ready to get the vaccine?
Are you an essential worker? Find out if you're eligible for the vaccine today.
Make an appointment by:
1. Visiting scdhec.gov/vaxlocator to see the locations accepting appointments for the COVID-19 vaccine. Pick a location and contact the provider to make an appointment.
2. Calling DHEC's Vaccine Information Line at 1-866-365-8110 for help finding contact information to make an appointment.