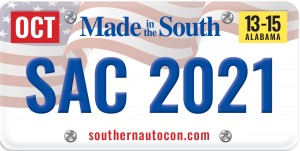 Does your company have a cutting-edge technology or innovative product or service that is valuable to the automotive industry? If so, we invite you to participate in an exciting opportunity…the Innovation Test Track® pitch competition at the Southern Automotive Conference (SAC)!
Details
Four companies will be selected to participate in the Innovation Test Track® competition at the SAC on October 14, 2021. To be considered for the pitch competition, please submit a brief executive summary by Tuesday, July 15, 2021, to Lynsey Delane at lynsey@southernautocon.com. Applicants will be notified the week of September 6, if selected to present at the Innovation Test Track® competition.
Benefits & Awards
• Connect with OEM's, Tier 1's and Tier 2's in the automotive supply chain
• Complimentary exhibit booth in the SAC Exhibit Hall
• Complimentary advertisement in the Southern Automotive Alliance (SAAM) publication
• $5,000 cash prize for the winner of the competition
• $5,000 of IP Strategy and Trademark Legal Services from Clements Bernard Walker PLLC
Executive Summary Requirements
1) Description of Technology, Products or Services
Describe your technology or the innovative and unique aspects of your product or service. Include design prints, schematics or evidence (video, etc.) of a functional prototype, if appropriate. Please make your description thorough, but easy to understand.
2) Value Proposition
Provide a description of the customer's problem that your technology, product or service solves and how you deliver value to the customer.
3) Competing Technologies
Describe your current (direct and indirect) competitors and your future potential competitors. How does your technology, product or service compare to the competition?
4) General Company Information
• Company name and address
• Contact Information, including name, phone number and email address
• Website, social media, etc.
For questions, please contact:
Mike Stonecipher, email: mike.stonecipher@innovate.gatech.edu, phone: 706-338-4012.
For more conference details, please visit: www.southernautocon.com!