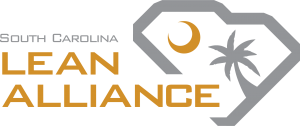 The Pee Dee/Lowcountry Chapter of the South Carolina Lean Alliance invite you to participate in a series of lunch and learn events:
April 26: Kata – Truly continuous improvement requires habitual and consistent practice using scientific problem-solving techniques. Kata provides an effective structure to accomplish this. Learn how to teach your associates to think scientifically.
May 24: Leader Standard Work – Many production floors are chaotic places to work. Come learn how to teach your supervisors and managers to get control of their daily tasks so they can more effectively lead their teams and manage their processes.
June 28: Leading a Kaizen Event – Properly structured Kaizen events can significantly improve process performance. Come learn how to lead these events for best effect.
July 26: Discussion Event – There will be questions that come from the previous sessions as well as lessons learned from new experiences. This will be a session to ask and answer those questions and learn from shared experiences.
Where: Lowcountry Graduate Center, 3800 Paramount Drive, North Charleston, SC 29405
Cost: Free
Time: 12:00pm – 1:30pm
To register, click here, select the appropriate event from the pull down, and fill in your information. We look forward to seeing you there!