Manufacturing Day 2017 was a great success and we would like to thank all who participated! This national program was designed to expand knowledge about and improve the perception of manufacturing careers and manufacturing's value to the North American economy.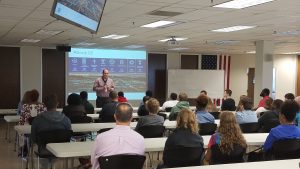 Starting Wednesday, October 4th, GE Healthcare in Florence, SC, opened their doors to the public. Attendees from the US House of Representatives, local manufacturers, the South Carolina Department of Commerce, West Florence High School, and US Senator Lindsey Graham's office were in attendance. Florence's 500,000-square-foot facility is responsible for building components for magnetic resonance imaging (MRI) devices and other medical imaging systems.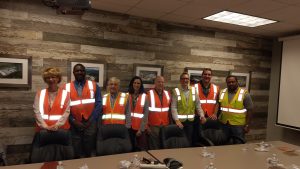 Thursday, October 5th, Swiss Krono, located in Barnwell, SC, held a presentation and plant tour. Swiss Krono's Barnwell facility creates virtually any style, shape, finish, texture, scrape, bevel, locking system, thickness, size, and attached pad of laminate flooring planks sold through distributors, dealers, and chains nationwide. Members from the South Carolina Department of Commerce as well as local manufacturers were in attendance.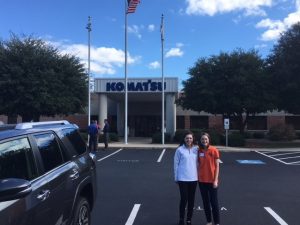 Komatsu in Newberry, SC, also hosted an event on October 5th. With roughly 75 attendees, members from the South Carolina Department of Commerce, local manufacturers, Congressman Jeff Duncan's office, and Congressman Ralph Norman's office enjoyed an overview and plant tour. It's Newberry Manufacturing Operation (NMO) conducted the groundbreaking ceremony in March 2001. The facility has produced Backhoe Loaders, Skid Steer Loaders, Excavators and now Wheel Loaders and Forklifts.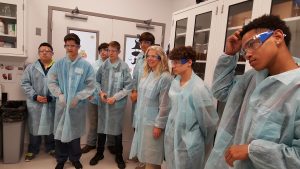 Nutramax Laboratories in Lancaster, SC, kicked off events for the following week. Students from York Comprehensive High School and Fort Mill School District, among others, had a chance to see where high quality products to support animal health were researched and created. Since 1992, Nutramax Laboratories has been developing products for people and their pets. Students and community members enjoyed getting an in-depth tour of the plant.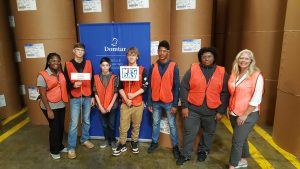 Domtar, located in Rock Hill, SC, opened it's doors on October 11th. The plant designs, manufactures, markets, and distributes a wide variety of pulp, paper and personal care products from copy paper to baby diapers. Attendees included students from the Floyd Johnson Technology Center, Economic Development, local manufacturers, and the South Carolina Department of Commerce.
Lastly, Fab Fours hosted roughly 125 attendees. Among others, students from Fort Mill School District, Lancaster County Career Center, East Mecklenburg High School, and Allendale County School District, enjoyed getting to see Fab Four's products and designs. Many heavy-duty trucks carrying Fab Fours' products were on display. Fab Fours is one of the largest aftermarket bumper manufacturers in the world with all company personnel and capabilities located at their headquarters in Lancaster, SC.