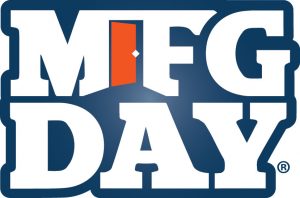 Manufacturing Day has been designed to expand knowledge about and improve general public perception of manufacturing careers and manufacturing's value to the North American economy. The official date for this annual celebration of manufacturing is Oct. 4, 2019. However, any day can be Manufacturing Day, so select a date during that week that works best for your company.
Host An Open House
As a manufacturer it's your opportunity to:
Tell your company's story
Inspire a new generation of manufacturers
Learn about manufacturing extension partnerships that can improve your efficiencies and workforce skills and boost your profits
Dispel outdated myths about manufacturing
Connect with potential customers in your community
The core element to Manufacturing Day is the schedule of manufacturer's open houses. Manufacturing Day producers will promote the open house schedule through general and trade media campaigns which will alert thousands of people to visit manufacturers and see that North American manufacturing is a vibrant career path and employers need skilled workers.
Register to host an open house at your company by visiting https://www.mfgday.com/user/register. Please reach out to Channing Childers (cchilders@scmep.org) with any questions.