Based on Markovitz's book, Building the Fit Organization
Dan Markovitz, author of Building the Fit Organization, will be a keynote speaker at the Citadel Holliday Alumni Center in Charleston, SC on March 28th from 9 am to 4 pm.
Sponsored by SCMEP, South Carolina Manufacturing, and MAU Workforce Solutions, Markovitz will address six core principles for making a company stronger, faster and more competitive. He leads them away from copying Toyota and coaches in the easily understandable language of physical fitness and athletic excellence.
"Trying to be like Toyota is a mistake. What leaders need to do instead is learn from Toyota—learn how to convert their competent organizations into dynamic, constantly improving, profoundly customer-focused entities. A "fit" organization has the ability to continually improve in a manner that delivers superior performance and results over the long haul," said Markovitz.
This workshop combines lecture with group exercises to help you develop an approach for embedding continuous improvement mindsets and behaviors in the unique environment of your organization. Its $499 per person and individuals can register now at https://www.scmep.org/event/fitorganization/.
"We are thrilled to have Dan Markovitz at this conference, said Chuck Spangler, President of SCMEP. "He comes with experience and an inspirational voice."
Markovitz helps organizations become faster, stronger, and more agile through a fresh approach to the teaching and practice of lean. With a philosophy derived from his years as a teacher and a running coach, he helps companies reinvigorate their lean efforts by developing an accessible on-ramp for their lean journeys.
ABOUT DAN MARKOVITZ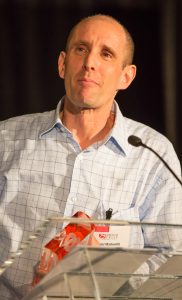 Dan Markovitz is a faculty member at the Lean Enterprise Institute and teaches at the Stanford University Graduate School of Business, the Stanford Continuing Studies Program, and the Ohio State University's Fisher School of Business.Dan has worked with clients throughout the US and Europe. Past clients have included Microsoft, WL Gore, Abbott Vascular, NYU Medical Center, Velux, CamelBak, Clif Bar, Microsoft, Goodyear Tire, and dozens of smaller companies.He is an author of two commercially published books—A Factory of One and Building the Fit Organization—both of which were honored with Shingo Research Awards. He's spoken at the Lean UK Summit, the Lean Island Conference in Reykjavik, the LEI Transformation Summit, the Shingo International Conference, and numerous Association of Manufacturing Excellence Conferences.