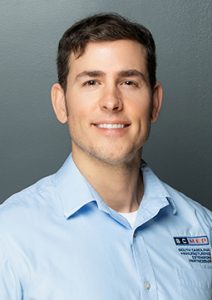 GREENVILLE, S.C. (April 20, 2022) — Tony Moore has been promoted to the role of Director of Operations, the organization announced today.
In his previous role as a Regional Vice President, Moore was responsible for managing the organization's efforts in a 10-county area of northwest South Carolina.  Moore utilized his 25 plus years of manufacturing experience to evaluate, support and elevate the operations of small- and medium-sized manufacturing companies.
In his new role, Moore will oversee SCMEP's field staff of seven Regional Vice Presidents as well as five Process Improvement Coaches and the organization's Vice President of Training Programs. In addition, Moore, an Air Force veteran, will evaluate and select third-party providers and resources that SCMEP makes available as part of its strategic support of manufacturing companies in South Carolina.
"I am very excited about this opportunity to directly serve the SCMEP field team and help ensure they have the resources they need," Moore said. "I started in a small mom-and-pop manufacturing company and saw first-hand how impactful SCMEP is as we grew into a much larger company, and I have a passion for helping companies take that same journey."
Moore succeeds Andy Carr as SCMEP's Director of Operations. Carr was promoted to President/CEO of the organization earlier this year.
"Tony's passion for learning about every manufacturing business and helping them unlock their potential is unsurpassed," Carr said. "From his hands-on experience helping to grow a South Carolina manufacturing company to his past six years at SCMEP, Tony has utilized his leadership skills, curiosity and drive to improve systems and processes to make a tremendous impact. I know he will do the same in this new role as Director of Operations for SCMEP."
About S.C. Manufacturing Extension Partnership
The South Carolina Manufacturing Extension Partnership (SCMEP) is a private, non-profit group that serves as a proven resource to South Carolina manufacturing companies, providing them with a range of innovative strategies and solutions. An affiliate of the National Institute of Standards and Technology (NIST), SCMEP operates under the US Department of Commerce to promote innovation and industrial competitiveness.